Residence for Single Family
Bedrooms: 3Bathrooms: 2Area: 2,668 square feet
As is shown in our records this property is placed at 531 54th Street, Killeen, Texas. Under the disposition history this possession was last sold in July 2009 for $85k. This property has approximately TWENTY-SEVEN HUNDRED square feet of habitable area and sits on 0 acres. The interior features 3 bedrooms and 2 bathrooms. The home's data shows the names of 3 recent tenants. The property is equipped with a 572 sqft garage.
PUBLIC RECORDS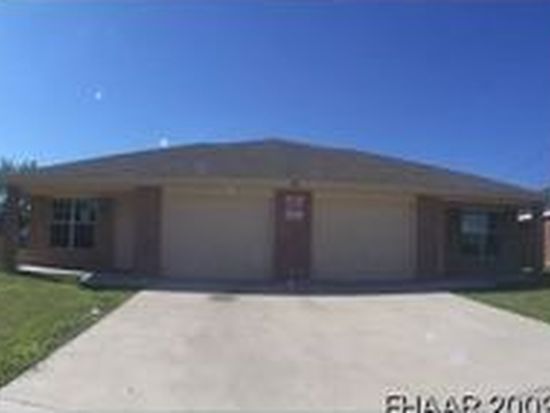 Facts
Built in 2006
Bathrooms: 2
Lot size: 21 sqft
Exterior material: Brick
Floor size: 2,668 sqft
Roof type: Shake Shingle
Bedrooms: 3
Parking: Garage - Detached, 572 sqft
Listing info
Last sold: Jul 2009 for $85,000
UNITS
Market Activities
531 54th St #A
This spacious brick three bedroom. Features includes two full bathrooms, garage, covered patio,...
HOUSEHOLDERS AND TENANTS
for 531 54th St, Killeen TX
Previous residents
| Person Name | Phone Number | |
| --- | --- | --- |
| | | |
| | 254-699-8088 | |
| | 254-699-9243 | |
SCHOOLS NEAR PROPERTY
Schools
Public/Private
Grade
How far from Property, mi
Elementary school
Ira Cross Jr Elementary School


1910 Herndon Dr

,

Killeen

,

TX

76543


254-336-2550
Public
PK-5
0.82
East Ward Elementary School


1608 E Rancier Ave

,

Killeen

,

TX

76541


254-336-1650
Public
PK-5
1.76
Middle school
Manor Middle School


1700 S W S Young Dr

,

Killeen

,

TX

76543


254-336-1310
Public
6-8
1.32
Rancier Middle School


3301 Hilliard Ave

,

Killeen

,

TX

76543


254-336-1252
Public
6-8
2.11
High school
Killeen High School


500 N 38Th St

,

Killeen

,

TX

76543


254-336-7208
Public
9-12
0.74
Pathways Academic Campus


1322 Stagecoach Rd

,

Killeen

,

TX

76542


254-336-7250
Public
9-12
0.92
PROPERTIES NEARBY
Street Address
People
312 54th St, Killeen, TX 76543-4534

Single Family

3 beds
2 baths
Lot: 5,112 sqft

401 54th St, Killeen, TX 76543-4503

Single Family

405 54th St, Killeen, TX 76543-4503

Single Family

Shawn C Caudill, Thomas Darrold
512 54th St, Killeen, TX 76543-4532

Single-Family Home

Luis Garcia-Medina, Maria Rodriguez
514 54th St, Killeen, TX 76543-4532

Single Family

1 bath
1,250 sqft
Built in 1964

Faustina G Givens, Katrina I Givens
517 54th St, Killeen, TX 76543-4531

Single Family

Beauty Wave, Derick O Callison
519 54th St, Killeen, TX 76543-4531

Multi Family

3 beds
2 baths
1,332 sqft
Built in 2006

Rodrecus Lipscomb
533 54th St, Killeen, TX 76543-4531

Single Family

1 bath
809 sqft
Built in 1949

Calvin Frye, Denise A Muntner
539 54th St, Killeen, TX 76543-4531

Single Family

1 bath
540 sqft
Built in 1949

Blue Line Marketing, Derek Crockett
540 54th St, Killeen, TX 76543-4532

Single Family